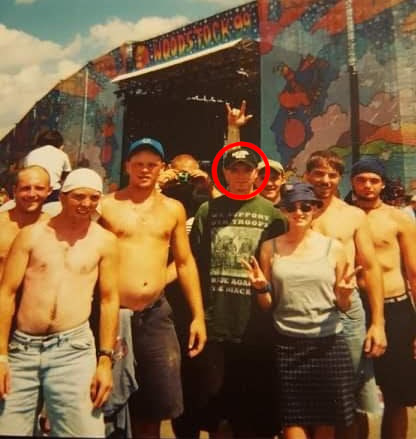 Don't listen to the new Woodstock '99 documentaries, I was there, it was awesome! It wasn't scary, it wasn't out of control. I was there with 11 friends for all 3 days up until the fires started. I saw people playing in mud that wasn't mud, I witnessed money flying out of ATM's, I saw things getting lit on fire. It was fine. When there's 400,000 people drinking in 1 place, you're going to have a couple of idiots.
We knew it was a bad idea to hand out candles for peace because by then trash was blowing around & you just knew people were going to light it on fire. I saw ATM machines broken open and I thought about grabbing some but knew each dollar serial number was recorded and I'd end up in trouble. I didn't knock over ATM's Monday – Friday, why would I do it on the weekend? I saw people breaking down plywood walls to get in for free but those are the kind of people that break the law anyway, Woodstock or not. Limp Bizkit didn't start the riots, it was just a lot of people having a lot of fun – stuff's going to get broken. Carson Daly wasn't in any sort of trouble; hell I didn't even know he was there and nobody cared about him anyway. I didn't see 1 fight or 1 arrest. I saw people that should of been arrested and I saw refrigeration trucks explode when I was on my way out but I never saw violence against people.
If you ever went to a party and half of them were idiots, that was Woodstock. Kind of fun but also kind of concerning.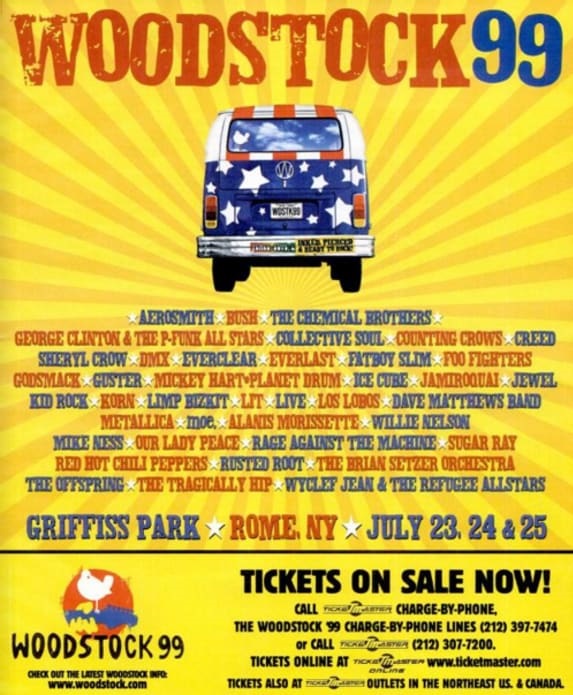 The RATM pit was a little scary, but I was like 100 lbs & drank vodka all day, not my best day on my feet. Limp Bizkit was fun, the Korn crowd was great & I got real close to the front. At this time Creed was still cool and they did such a great cover of The Doors with Robbie Krieger. The Offspring were funny, Sevendust blew my mind and I had never seen them live or heard them before. Everclear was sounding great, Godsmack and Megadeth had great shows, Rusted Root was so much fun and James Brown was iconic. This was the 1st time I'd even seen Kid Rock in the flesh or in the press and he put on a great show, Sheryl Crow pulled out a Guns N' Roses cover and the Red Hot Chili Peppers bassist came out naked and played nude the whole time. I can't imagine being that confident. Metallica were the last band on the 2nd night and with another day to go so they said, "Hey, since there's nobody up next let's keep playing!" They did at least 2 encores, eventually I just sat down and waited for them to finish. Kid Rock came out and sat on Lars Ulrich's drum set & drank Jack Daniels straight out of the bottle. I saw Fatboy Slim or Moby at a rave at like 2 AM but don't remember much from that. Perry Farrell from Jane's Addiction was playing a DJ set too. DMX was great but I remember Ice Cube being kind of flat, I could of just been exhausted. Bands that I missed or don't remember if I saw were Dave Matthews, Our Lady Peace, George Clinton, Lit, Counting Crows, The Brian Setzer Orchestra & Alanis Morisette. Aerosmith had canceled by the time I got there & I didn't even know Willie Nelson or Muse were there. Hell, I didn't even know what a Muse was at the time.
I've talked to a few friends I went to Woodstock '99 with and ask them if we were scared or was it out of control, maybe I just don't remember it correctly. No, they all said the same thing. It was the greatest weekend ever.
– Forrest