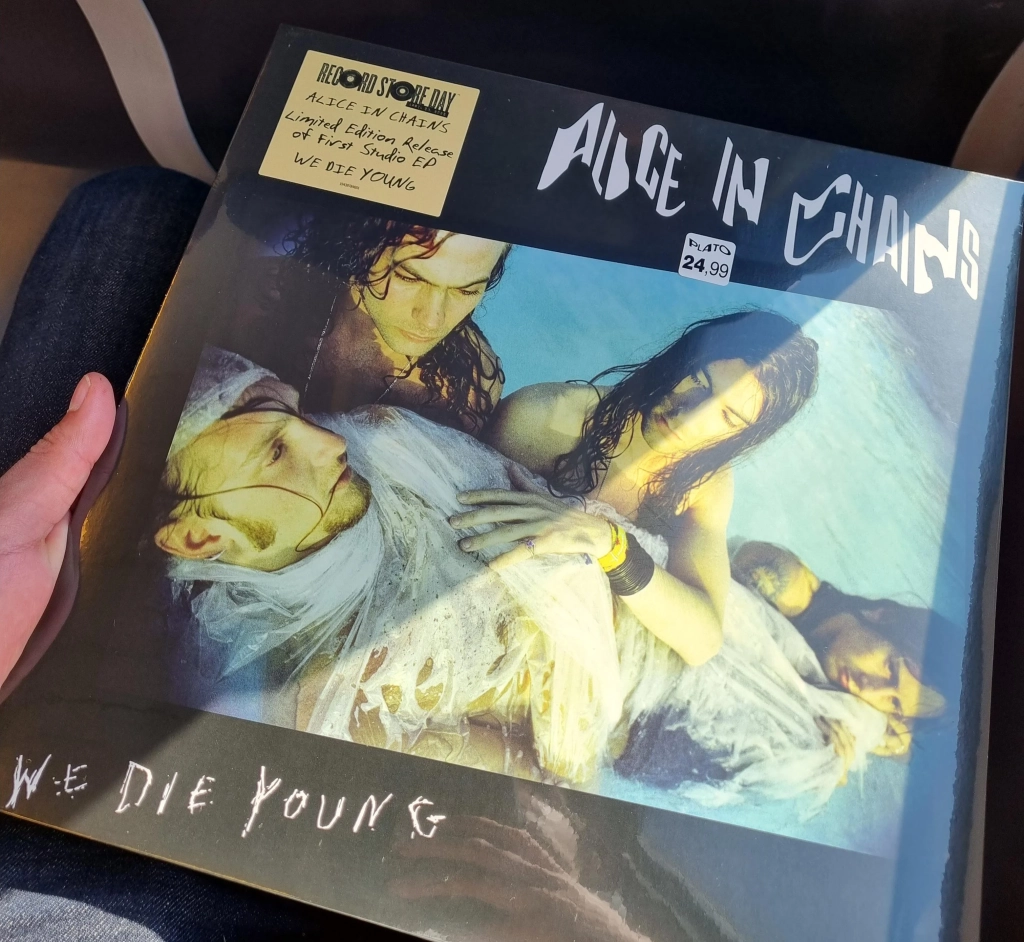 FIRST, some history…
Alice in Chains are one of the big grunge bands from Seattle. Ridden with drug problems, their former lead singer died of an overdose after not being able to stay off the drugs. Their lyrics dark, and their musical elements connecting a bit more to metal than the Nirvana's, they had a great deal of appeal.
"We Die Young" originally is a promotional exclusive EP. It was released in 1990, and includes two songs from their future album "Facelift". The song "Killing Yourself" is exclusive to this EP. Original promotional copies sell for hundreds now. Record Store Day 2022 will have an exclusive 12″ version of this EP, so if you're a diehard fan, this is absolutely your time to experience the beginnings.
The EP is short at three songs, but I want to give a short review.
Alice in Chains songs tend to reference wars of kind and "We Die Young" as a song is no different. Built with strong guitar riffs, the lyricism is small but bold. This war of choice is actually the gun violence existing in Seattle, causing many innocents to die young in the alleys.
"It Ain't Like That" doesn't grab me as much as We Die Young. The instrumentation isn't bad but the song doesn't stand out as much. The lyricism seems to vaguely refer to cycles of struggle. It could be about the "War" of getting into the industry, trying to write something people want to hear.
"Killing Yourself" is the EP exclusive song that didn't see an official release. The song seems to reference the "war" of drug addiction and losing yourself to drug usage. Slowly killing yourself indeed it is. Sad to realize 2 of the band members would later succumb to these issues.
Lyrics: 7/10 – Some thoughtful, could possibly use some finessing to get a deeper point across.
Music: 6/10 – Good heavier grunge. Not exactly my personal style. Sometimes I feel his voice is overshadowed by the guitars.
Overall: 6/10 – Not a bad early display of their work. I think it represents a good beginning for them. Definitely grab this if you are a fan.  – Disc-Cover Records