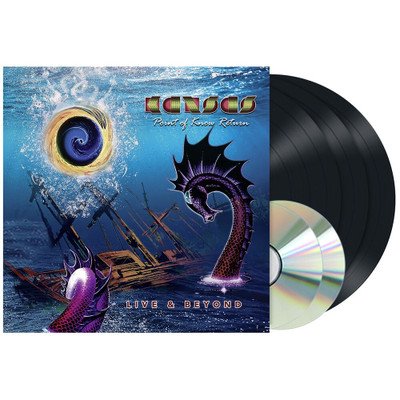 First off, I'd like to thank our lovely classic rock station 96.9 "The Eagle" for taking the time to read and show an interest in my reviews! I listen to every album track by track and give a pretty nearly live take of what I am listening to, so I hope we can continue to discuss all forms of awesome and maybe not so awesome music. Support your local small businesses, and your local radio stations too!
Known for their massive hit "Carry on Wayward Son", Kansas has been filling our ears with arena rock since the 1970s and still carry their appeal forward. They have not quite become dust in the wind yet. Okay, I will stop using song title puns for this.
"Point of Know Return" was actually the most successful work of Kansas among US buyers, charting #4 and selling around 4 million copies. Considering this is their most successful album, it makes sense their choice of live album would absolutely refer back to this one. I also think the right live album can REALLY immerse someone in a new band like never before. My introduction to Rush was actually the Working Man live CD. I now own Moving Pictures on vinyl. They work! Nevertheless, the recordings of this live album actually take place in 2019 and 2020. I am interested in seeing how they've maintained their sound.
The album begins with the crowd screaming as they begin playing "Cold Grey Morning", and I absolutely love violins. So I am immediately drawn in. They definitely hold the vocals well and the audio quality thus far is excellent. Not lost in the arena pit at all.
"Two Cents Worth" is good, he seems to struggle a little at times to keep his breath with the speed of the melody. But the audio quality remains fantastic. You can hear all the little musical additions.
The way the album is made, it really feels like we are in the front row listening to them. "The Wall" shows some of the aging of the vocalist, as he seems to struggle in some places but the violins with this track are absolutely beautiful and help elevate it regardless.
"Song for America" is performed well but the song comes off a bit long-winded to me in general and does not grab me. Can't like them all!
"Summer" has just amazing guitar playing on it and with the violins involved the dueling instruments on the live album sound just amazing.
"Musicatto" is an instrumental piece that almost sounds a bit rock mixed with celtic styles. Very dramatic piece.
It leads very directly into "Taking in the View", which begins with beautiful instrumentation. I think thus far this one has been my favorite.
"Miracles of Nowhere" is the first one that feels a little rough in quality. The vocals were a little rough and the instrumentation was just a little off.
"Point of Know Return" returns to the good quality, good vocals. The song is not my favorite, but for any Kansas fan, I am sure it'll be a winner.
On "Paradox", we get some great vocals but I am not sure I am as into the organ instrumentation here. I feel like at times it outshines the other features but does not add to the song.
"The Spider" has a fantastic groove and keeps you excited for the next track.
It fades nicely into "Portrait (He Knew)", which has fantastic instrumentation and a great melody for vocals. Everything just seems to fit right into place.
"Closet Chronicles" shows the vocalists bit of struggle, but it does not take away from the excellent song. I like how the vocal melody choice feels like a broadway produced story song. The instrumentation carries the story beautifully.
"Lightning's Hand" is the second I would say had execution difficulties. The vocalist seemed off in a couple places which caused the instrumentals to seem off as well.
"Dust in the Wind" live is a reminder of how back in time people were truly required to have full musical talent to be musicians. They sound as good on this as if they recorded it in the studio itself, and the vocals are spot on.
The next track, "Sparks of the Tempest", is so easy to get immersed in. The smooth vocalizations and dramatic instrumentation really grabs you. I can see myself easily returning to this one.
"Nobody's Home" does not grab me as much, although the violin work is beautiful. Sometimes I feel like I could just listen to an instrumental album from them.
"Hopelessly Human" has such a strong build up to it to build anticipation leading into the bigger parts. Kansas has such strong orchestration that presents itself beautifully on a live album like this!
Of course they cannot perform without doing their most iconic piece, "Carry On Wayward Son", and it sounds almost just like the original record.
"People of the South Wind" really sounds meaningful to them even this far into the future. The piano got a little loud though, not sure it was an intentional.
"Refugee" is a lyrically deep ballad, and probably one of the best in my opinion. It did not overdo anything and they kept it to the story. It is like a folk rock story and I love it.
This live album closes with "Lonely Wind", which is a sort of sweet closer but feels a bit of a low compared to the rest of the album.
Lyrics: 8/10 – I really enjoy the lyrics of most of the songs, and it seems like they wrote meaningfully.
Music: 7/10 – The music is great, although sometimes I feel certain added instruments took away from the album itself.
Overall: 7/10 – If you like Kansas, this will be a great album to add to your collection. It is also a fantastic introduction to their work, their biggest album, and the orchestration that makes them who they are. They were certainly groundbreakers for their time. – Michaela